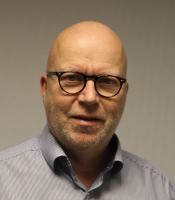 What customers say ...
The testimonials below are obtained from selected customers upon completion of engagement:
Anne Mikkelsen
Director, Global IT Operations
Milestone Systems


17. January 2019




I had the pleasure of working with Philip during two years (2017-2018) when he was working as an external consultant for Milestone Systems.

Philip helped us documenting and implementing critical procedures for Global IT Operations, such as Incident Management, Security Incident Management, Identity & Access Management, including controls and governance.

I know Philip as a dedicated consultant who has challenged me and other stakeholders in the company in a constructive way, based on his knowledge and experience within Business Processes, Information Security and Compliance Management.

As hiring manager I always felt well informed about the status and risks of the projects. It has been a pleasure working with Philip and I would not hesitate to request Philip's assistance again.

Tine Skov Madsen
Director HR & Organisation Development
SDC


18. October 2016




Philip worked for me as a consultant on a compliance job in the Financial sector. In this position, Philip quickly managed to get a grasp of the challenges of the position and hit the ground running on the daily tasks he took over.

I have experienced Philip as a dedicated, professional and knowledgeable individual who has been able to engage with our stakeholders seamlessly. He constantly looks for ways to improve business and ways-of-working and he delivered very solid work, while he has been with us.

Clare Pettitt
Interim Group Audit Manager
Mecom Group plc / Berlingske Media


27. November 2013




Philip is a professional, motivated individual. He demonstrated a deep knowledge of the business, the risks associated and how these risks should be controlled and managed within the business - providing management with appropriate challenge and support.

His work was always of the highest quality. I would certainly use his services again and would highly recommend him.

Michael Higgings
Sarbanes-Oxley Manager
Jeld-Wen Inc.


20. March 2012




I had the pleasure of working with Philip for nearly one year while he led the IT SOX implementation in our European region. Philip's consultative and advisory approach was an asset to the overall project team as well as the regional team.

He approached the project with enthusiasm and great energy, which continued throughout the duration of the engagement. Philip provided quality reports on a timely basis and was always available often times working very long hours without question. When faced with a challenging task or opposition to an established plan, I could count on Philip to manage the issue at hand.

I would highly recommend Philip and would definitely request Philip's assistance should his skill set be needed again in the future.
Last update: 5. March 2020